Flatiron 3
Press release, 2021 August 20
What is Flatiron?
The basic idea behind Flatiron is to create wonderful light and complex shader scenarios and bake them with just few simple clicks into a bitmap. The high quality look remains exactly as in the rendered shot, but the real advantage is: the whole scene can be displayed in real-time, on almost any device.
There are no complex calculations to be done, just simple textures containing all visual information, faking the render display quality.
Why Flatiron?
Because it is the only solution on the market that can instantly unwrap, pack and texture-bake one or many objects or even whole 3D scenes. There is no need to individually compute objects and manually compose baked textures in Photoshop.
Flatiron does it in one pass, in the highest quality and in the fastest possible way.
It is suited for simple, low poly assets, mobile games, real-time product visualizations, Arch-Viz as well as for extremely high-poly assets: There is no need to manually place seams or arrange UV chunks. It is a 3 click action!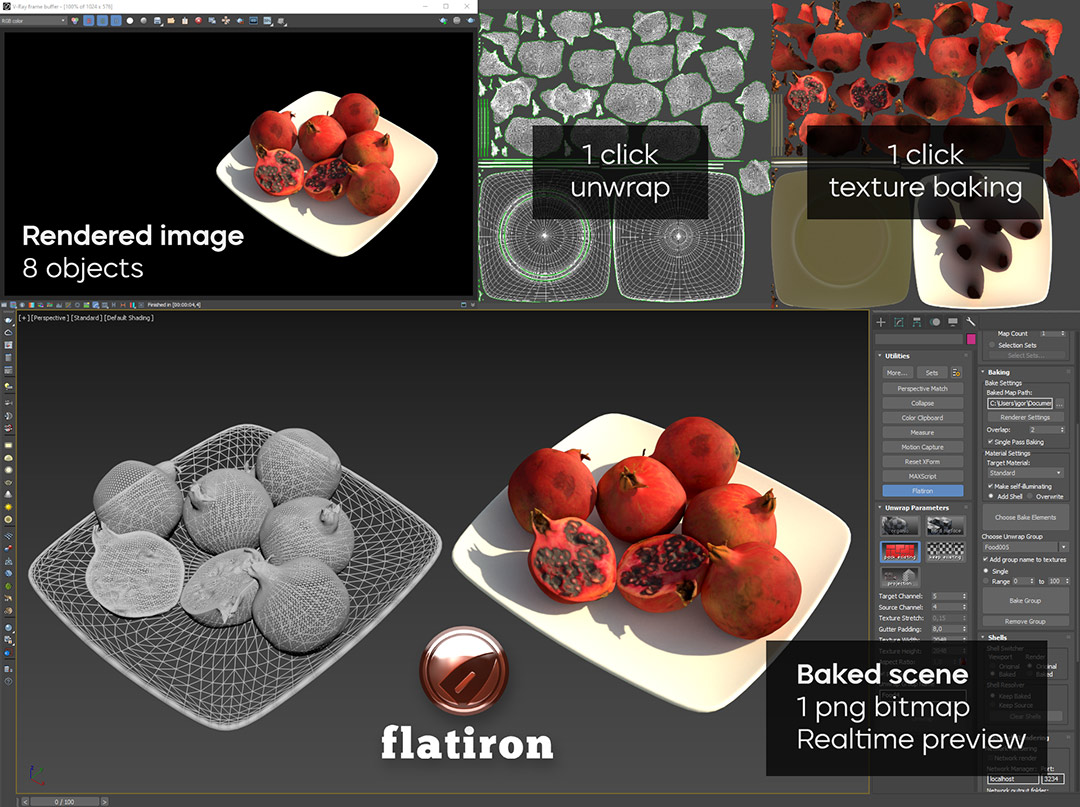 How does it work?
Flatiron is a simple, 3 steps app:
– Select object(s) or the whole scene and press "Unwrap" to unfold and pack it in one or few UV-Sheets
– With one UV-Sheet and all objects unwrapped, select the render elements you want to bake and tune other options.
– Finally, press "Bake" and Flatiron bakes your selection into a bitmap, and applies it to the scene objects. The final result in the view-port looks exactly like the render image.
Flatiron offers 3 unwrapping modes for optimal results:
organic, hard surface and projection unwrapping.
Each of them is developed to optimally unfold even the most complex and chaotic topologies.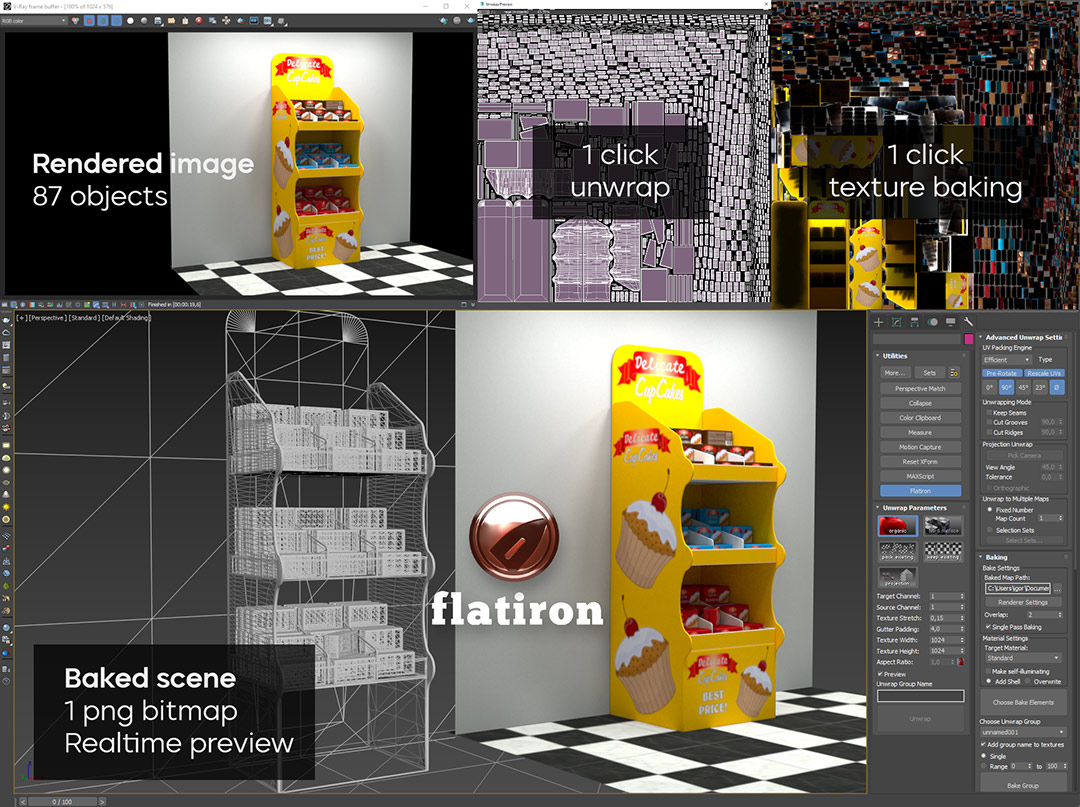 What is new in Flatiron 3?
The principal and the the most valuable improvement is the completely new core design, based on the latest advanced and powerful UV packing features.
Flatiron 3 comes with the integrated "UV-Packer" technology, allowing artists to pack massive geometry structures and turn them fast into optimally packed UV results.
We have also added a custom UV viewer, allowing users to review all unwrapped maps directly.
It supports Autodesk 3dsMax 2022 and comes with dozens of further improvements, fixes and functions.
Flatiron 3 comes as a permanent license and all customer since 2009 can update it for free.
Please log in in your customer area for the latest version.
### Change log:
– New UV packing engine
– Support for 3dsMax 2022.
– Improved Flatten unwrap in "Hard-Surface" for non-planar polygons
– Auto-correct "Organic" unwrap for polygons with defective edge data
– Added 'remove all' option to Bake element dialog, for removing all Flatiron modifers from the objects automatically
– New unwrap preview dialog
– Improved auto-fixes of defective poly objects
– Add support for previously unsupported bake element parameters TYPE_TEXMAP and TYPE_TSTR_BV
– Dozens of extra improvements and fixes for better compatibility, speed and quality.